Disclaimer: This article is the opinion of the author and does not necessarily reflect that of all Teachers' Christian Fellowship members.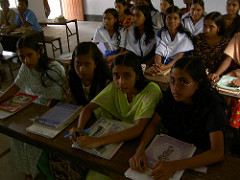 It is now 11 years since my wife Jill and I first went to Bangladesh in February 2005. Jill's role has been as a counsellor, mediator, and trainer in conflict resolution. My role has been to train Primary and High School teachers.
I began working at LAMB English Medium School in north west Bangladesh, close to the Indian border. To my surprise, none of the teachers, including the headmaster, had any real teacher training. As a consequence, my training was all they ever received. Everything I did was very practical – teachers had to be able to reproduce it within 24 hours in their own lessons. An essential part of the teacher training was observing lots of lessons.
I was also involved in training teachers in cities across Bangladesh. At first, I did all of the talks and demonstration lessons, but gradually began including the teachers from LAMB School, until I was just presenting one session over a whole training day.
In 2009, one of the LAMB School teachers began Livingstone School, a school for the poorest of the poor. I then began working across both schools. Livingstone now has 215 students, ranging from playgroup (3 year olds) to Year 8. Only three of the children have parents who have been to school. As the families are so poor, I took on the task of raising the salary money for all of the teaching staff. As the school grew in size, so did the salary budget. Last year this amounted to $52,000AU.
Five years ago, I began a plan for the school to become financially independent. As a consequence, the amount that I raise will decrease until the end of 2018, when Australian funding will cease altogether. The school didn't actually want this to happen. They much preferred that I continue, indefinitely, to raise salary money, but this isn't in their best interests, or mine.
We have averaged two months every year in Bangladesh, and I have averaged 20 hours a week spent on Bangladesh matters only decreasing for the first time this year, as funding pressure on me decreases.
We hope to return twice more to Bangladesh, possible as early as February next year, but this will depend on safety improving, after the spate of expat murders, only five minutes from where we stay and work, that have plagued Bangladesh for the past 15 months. We hope to visit for the final time in early 2019, the year after funding ceases altogether.
Ian Cochrane