Disclaimer: This article is the opinion of the author and does not necessarily reflect that of all Teachers' Christian Fellowship members.
A vast array of educational experience assembled on Saturday 4 November for the TCFNSW launch of new brochures about religious education in public schools aimed at parents and teachers. The venue was Old Government House Parramatta and scones, jam and cream were only surpassed by a variety of cakes and fruit for the sugar averters. Thanks to Pam for all her organisation.
As friends from city and country met and shared the high tea, it was good to note the common concern for religious education in public schools and the desire for TCFNSW to continue to support both general religious education and special religious education (scripture). Harley Mills, President of TCFNSW introduced the formal part of the gathering and promoted the brochures with copies being given to everyone. These brochures are based on an article by John Gore on Religious education in NSW public schools: a less certain future. A printed copy of each has been posted to members with a membership renewal form. You can contact the office for multiple copies.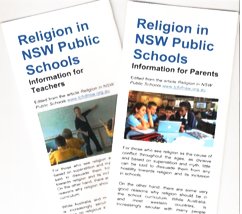 John Gore then spoke about the content of the brochures outlining the issues for schools and providers of special religious education. He highlighted concerns about the secularisation of the curriculum which is moving more and more to omit religious influences in history and todays' world and ignore the religious faith of key figures. He believes history is being distorted through this process. He also drew attention to the difference between the Department's definition of general religious education and the legal definition (non- denominational Christianity) which gives Christian teachers in public schools more latitude than they believe to express their faith.
In relation to special religious education, John Gore emphasised the impact on schools of the insufficient availability of teachers, the impact of changes to the enrolment card and the difficulties of negotiating time for special religious education in secondary schools.
There was question time before winding up a thoroughly worthwhile afternoon.