Disclaimer: This article is the opinion of the author and does not necessarily reflect that of all Teachers' Christian Fellowship members.
Indian Mission Trip
Lyn Searle (TESOL Teacher in an Intensive English Centre)
In Dec/Jan 2018-19 I had the privilege of going, with six others, on my 5th mission trip to South India to the state of Tamil Nadu. We stayed at the Bethel Centre, a Christian Community, near Salem which was settled by European Christians over 100 years ago. The school day started at 6:30am for chapel and finished at 4:15pm. In the mornings we taught Scripture lessons to all grades based on the life of Joseph. The older students did homiletics. The children sang, danced, learned memory verses and gave their testimonies. It was fantastic to see the enjoyment they had making things, even the older boys got into the craft.
I taught 80 students in Standard 7 and 8 English, using Australian animals to help with writing descriptions, recounts and teaching grammar. I also did conversational English with 35 young people studying to be nurses' aides.
Sometimes, we got on the school bus to visit sponsored children's homes. We were always welcome, and many asked for prayer. I visited one of my sponsored children. Each time I go, I see them growing physically and also spiritually.
Grace Ministries has set up three village centres out from Bethel, where employed managers and their wives feed over 300 sponsored children who come from their homes to have breakfast before going to government schools. In the afternoon they have tutors to give homework help and they get taught from the Bible. The villagers are Hindu, but the Christian teaching is filtering through and some children and families are becoming Christians. The centres give the children guidance in many aspects of life and give yearly dental and health checks. In the holidays they have Vacation Bible School programs with help from many organisations like SU, Gideons, theological students and pastors.
The team was blessed and was kept safe travelling on rural roads. It is always a worthwhile ministry to be involved in. That is why I keep going back. I love being able to sponsor children and give them a chance of learning about a God who loves them and died for them, unlike the Hindu gods all around them.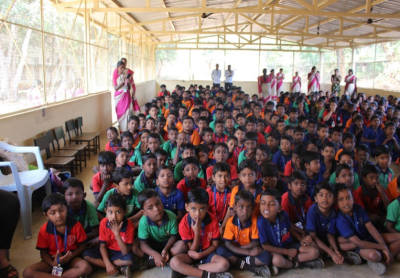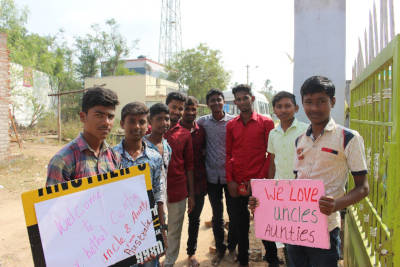 The team is welcomed to village
Morning School Assembly