Disclaimer: This article is the opinion of the author and does not necessarily reflect that of all Teachers' Christian Fellowship members.
TCF at Scripture Union's 150th Celebration
Teachers' Christian Fellowship ran a stall at the Scripture Union 150th celebration on 21st October 2017. Harley Mills, Lyn Searle and Dianne Young manned the stall with input from Pam Griffin when she wasn't doing Scripture Union chores. We were strategically placed next to the stall for special religious education (SRE) teachers and school chaplains.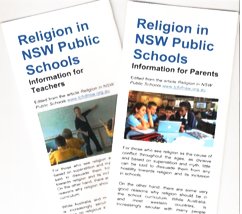 There was keen interest in our new information brochures for parents and teachers on Religions in NSW Public Schools. These were handed out to teachers, SRE teachers, parents and grandparents. One SRE teacher was very keen to include this brochure in the kindergarten enrolment package. It would be wonderful if all schools followed her example. A number of retired teachers, including present and past TCF members, visited our stall.
One member of the public told us about moves in his local area by principals to remove paid SRE teachers from schools and only allow one seminar a term. I discussed the legislation with him and suggested he needed more support from TCF members.
It was a most enjoyable day with many membership brochures, TCF Facebook cards, pens and information brochures given out and old friendships renewed.